This product release includes the following improvements:
1. New Feature: "Get Started" tabs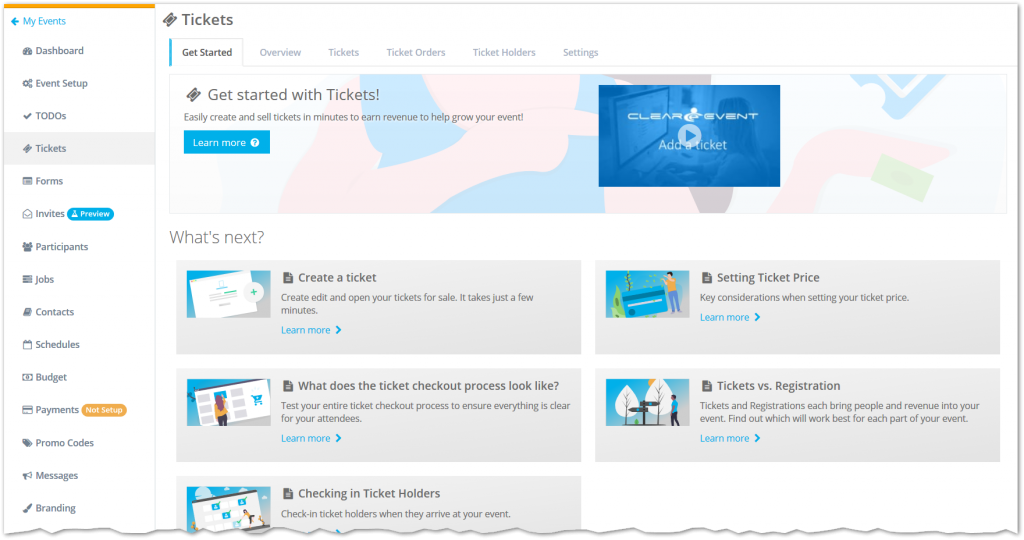 You can now use the new "Get Started" tabs feature to get more out of the Event Manager App!
Features & Benefits:
For every section of the Event Manager App, you can now easily access important help articles and videos that will help you get the most out of the ClearEvent platform.
It's now easier and faster than ever for your team to become productive with the ClearEvent platform.
Learn more about application features and best practices you didn't know about.
Try it out now in the Event Manager App.
2. Other Enhancements
Improvements to the registration page to help streamline registration when filling out required and optional fields.
Better merge handling when multiple event organizers save conflicting changes.
Additional accessibility enhancements to the ticket checkout process to help with screen readers and keyboard navigation.
General stability, performance improvements and bug fixes.
We hope you find these new features useful. As always, we'd love to hear what you think, so please reach out through Chat or contact ClearEvent Customer Support.
Happy Planning!
The ClearEvent Team