This product release includes the following improvements:
1. New Feature: Promote & Manage Sponsors
The new Sponsors feature makes it simple for your event to promote sponsors to your attendees using your Event Portal.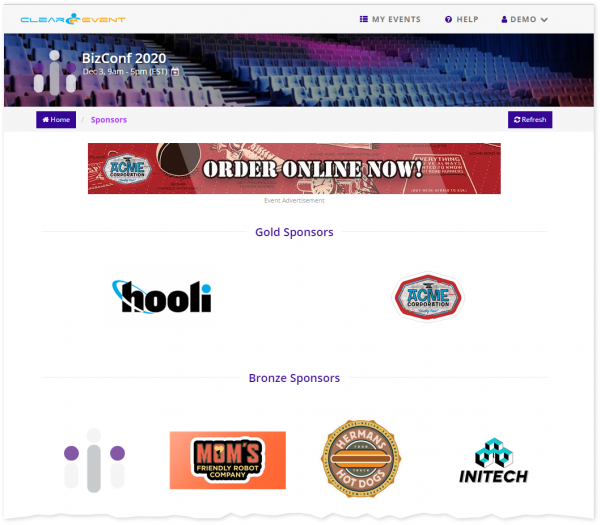 You'll notice a new Sponsors section (currently in preview) in the Event Manager App. Use the Sponsors section to share sponsor details, contact info, social links, special offers, and more to your Event Portal.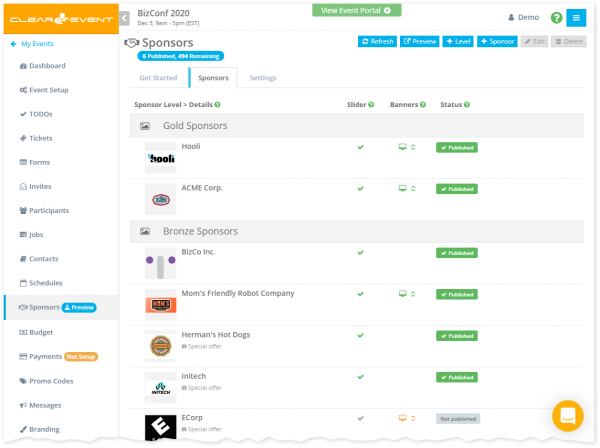 Features & Benefits:
Quickly add sponsor information and share it with your attendees using the Event Portal App (included).
Promote sponsors by sharing details like contact information, special offers, social links, and more.
All subscription plans can use the new Sponsors feature to add & preview sponsors. To make sponsor details visible on your Event Portal, a paid subscription is required. Upgrade your event to an affordable paid plan in a few clicks from within the Event Manager App today.
Effortlessly upload sponsor logos. ClearEvent automatically resizes logos and organizes them neatly for display on your Event Portal.
Create as many sponsor levels as needed to organize your Sponsors (e.g. "Gold", "Silver", "Bronze").
Choose which sponsor logos to promote in the new Logo Slider area of the Event Portal. Choose where on your Event Portal the Logo Slider is displayed.
Set up Banner Ads for key sponsors to further promote their products & services. Choose where on your Event Portal banner ads are displayed. Banner ads provide additional brand placement opportunities that you can sell to your sponsors.
Call your sponsors by something different? No problem! Simply rename them to "Partners", "Exhibitors", or anything else you like.
The sponsors feature has been optimized with accessibility in mind. Specify alternate text for sponsor logos to ensure your sponsors information can be read by accessibility tools.
Sign in now to try it out!
2. Other Enhancements
Ticket improvements have been made to remove Min Tickets / Order selection defaults when placing orders to help streamline the checkout experience when required tickets become sold out. When a Min Tickets / Order value is set for a ticket, the default quantity is now set to 0, instead of the Min Tickets / Order value.
General stability and bug fixes.
We hope you find these new features useful. As always, we'd love to hear what you think, so please reach out through Chat or contact ClearEvent Customer Support.
Happy Planning!
The ClearEvent Team