Here's what's new in the latest ClearEvent product release. Please note this update is a cumulative update of a number of smaller service release improvements.
Ticket Printing
Ticket Buyers can now easily print their tickets at the time of checkout using the new Print Tickets button. Clicking the Print Tickets button will open your devices Print Dialog Window and will allow you to print the ticket to an available print device on your computer or network.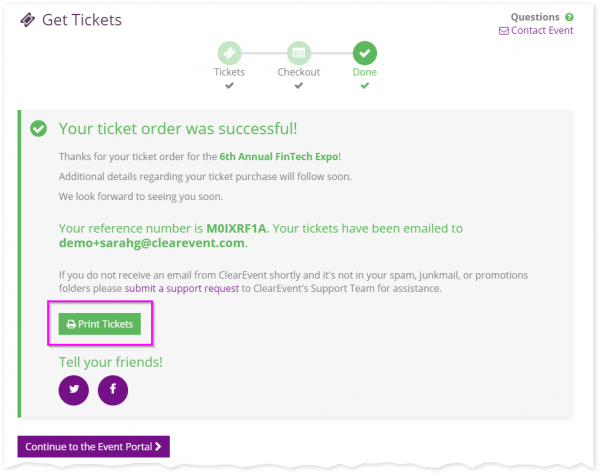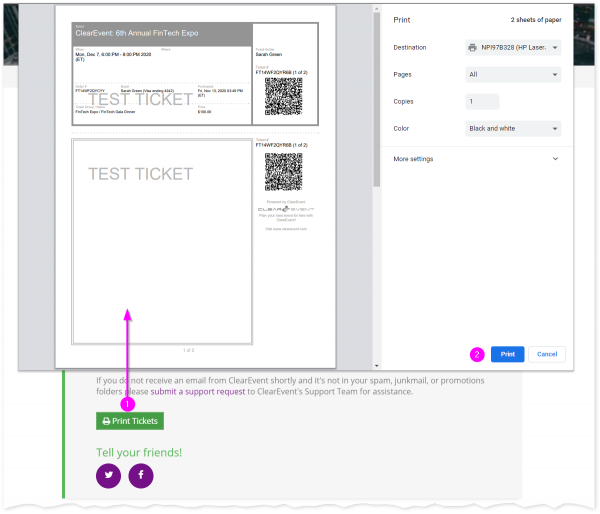 Key Benefits:
Ticket buyers can immediately self-print their tickets without having to open their email to retrieve and then print tickets.
Event Organizers, who use the Kiosk Mode feature of ClearEvent to sell on-site tickets to walk-ups, can easily print tickets on-demand, using printers you already have.
The Print Tickets button can be disabled if needed.
Send Automated Event Reminders
Automatically send event reminders to registrants to remind them as your event approaches.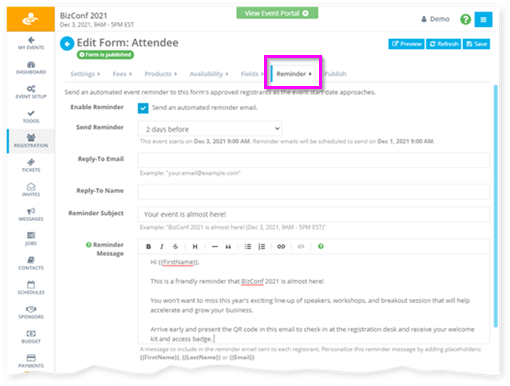 Key Benefits:
Reduce no-shows.
Set it and then forget it!  Set unique email reminders for each of your registration forms.
Streamline event check-in by ensuring the registrant's check-in details are at the top of their inbox prior to the event start date.
Other Enhancements
Enhancement: Increased field lengths for a number of ticket and registration form related fields (Ticket: Additional Details, Description, Description For Ticket, Registration Form: Additional Details, Description, Form Field: Link, Input Hint)
Enhancement: Improved linebreak and whitespace handling in Invite emails.
Fix: Removed duplicate ticket buyer details from Ticket Holders tab.
Fix. Public Schedule now appear correctly on the Event Portal for signed-in users.
Fix. Subsequent charge on approval attempts after a declined payment now succeed.
Fix. Sent messages to ticket recipients no longer display a error message when attempting to delete the message.
Fix. Copy message no longer copies message-specific status details from original message.
Fix. Special characters entered into the Message Subject field now display properly in email subject line.
As always, we'd love to hear what you think, so please reach out through chat, or contact ClearEvent Customer Support.
Happy Planning!
The ClearEvent Team