Powerful Event Management Software
ClearEvent provides organizers with affordable & powerful event management software for everyone. We take the pain out of team collaboration, end-to-end event planning & participant management.
Product Tour
One system for your entire event & everyone in it!
ClearEvent is cloud-based event management software for event planners & participants. Experience a fresh approach to event planning, team collaboration and participant engagement. From start-to-finish, we make event management a snap for your entire team, and all in one powerful tool!
All-in-One Event Planning Tools
Sell Tickets & Register Participants
Accept Payments & Manage Your Budget
Communicate & Share Event Details
Promotion & Participant Engagement
Mobile Event Portal Included!
Create an event website in minutes to easily share event details with your participants.
Works on any device (mobile, tablet & desktop)
All the information your participants need, in one place.
Custom branding
How it works?
1. Create your event
Create and set up your event in minutes! Then simply invite your organizing team to help.
2. Plan & execute
Your team gets our all-in-one Event Manager tool to manage registrations, accept online payments, budget your event, communicate with participants and track your event progress.
Your participants get an awesome Event Portal where they can register and find personalized & up-to-date event details.
3. Repeat
When your event's over, simply press a button and BAM!!! In seconds, we'll reset your event and get it ready to be run again. Your team saves precious time and money.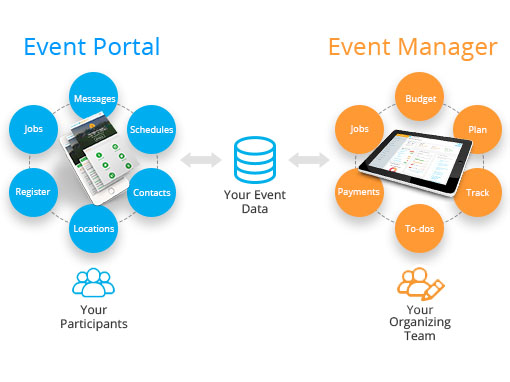 Event organizers love ClearEvent!
"Love the new Event Management Software platform designed by ClearEvent that we are using in the Special Events Office"
Susan H. - Municipal Event Coordinator
"We have too many systems and too many logins. Putting everything I need in one system is a HUGE step forward!"
Major Food Festival Event Organizer
"I've looked at a lot of event software over the years and ClearEvent really has got something!"
Municipal Event Organizer
Discover how ClearEvent can help
Sign up now to create your event for free. No credit card required.
Sign Up Free!
Frequently Asked Questions
Do I need to install anything?
Nope! ClearEvent is cloud-based. That means your entire team can access it from anywhere in the world, at any time, with only a modern web browser.
Which devices does ClearEvent support?
ClearEvent runs in all modern "evergreen" web browsers on all major platforms (Windows, Mac and Unix). ClearEvent also runs on all mobile platforms (iOS, Android, Blackberry and Windows Phone).
How long will it take to get setup?
Most customers complete the basic setup in minutes (not hours) and are able to launch their Event Portal and begin planning their event. Obviously, planning your event takes much longer than that, so we built ClearEvent to be intuitive, simple to set up and easy to use.
Can I import my existing data?
You bet! We've built import and export capabilities into the product so you can use data you already have to get up and running quickly. Standard templates will help you import things like budget line items, to-do's, contacts, and much more…
How much does it cost?
For small events, it's FREE! Small events pay nothing and there's no credit card required. As you grow, your event can upgrade to larger plans if needed. We have paid plans to suit larger events. Learn More
Can my event accept online payments?
Yes! Using your own Stripe account, your event can easily accept online credit card payments. Your money will be deposited into your bank account on a rolling basis. Learn More
Is it secure?
Yes. All data sent and received in ClearEvent is encrypted using TLS 1.2 using a SHA 256 certificate from DigiCert Inc. ClearEvent does not store credit card data on our servers and we are rated PCI SAQ A. Our payment processor, Stripe is certified to PCI Level 1 Service Provider, the highest standard.
I still have questions, can I talk to someone?
Sure thing! Simply request a call and someone from our team of event experts will contact you. You can also reach us through the Chat button (bottom-right) or by email.
Still have questions?
Drop us a line anytime and someone friendly from our helpful Customer Success Team will respond in a flash! You can also book a demo or request a call if you still have questions.
Ask us anything!