Event Budget Planner
Manage your entire event budget in one place. Your budget stays up-to-date in real-time as you sell tickets & register attendees.

 Event Budgeting
Event organizers told us they wanted a budget that their organizing team could manage without swapping spreadsheets. Getting started is quick. Import your existing budget, or use ClearEvent's comprehensive starter budget that's loaded with common revenue and expense categories. If you prefer, start fresh and can add your own budget line items as needed.
Updating your budget is simple with ClearEvent. Your event team can update Budget records as they go. Most importantly, fees collected by ClearEvent update your Budget automatically as they are received! No longer do you need to dig through data exports, Excel sheets and emails to see if you're still on budget!
At a glance, budget details roll-up to your Event Dashboard so you always know if you're on track.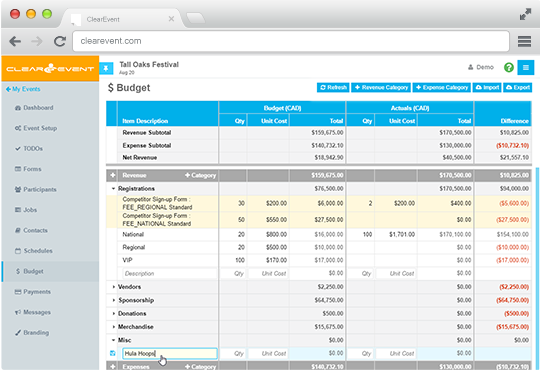 Features built by Event Organizers
We're event organizers too. We know your pain and we've built some amazing event budgeting and management features to help take the load off your shoulders!
Discover how ClearEvent can help
Sign up now to create your event for free. No credit card required. No trial expiry dates.
Sign Up Free!