EVENT PLANNER & EVENT AGENCY PLANNING & MANAGEMENT SOFTWARE
As an event planner, you have a number of clients you're trying to keep happy. Your events vary as widely in type as they do in size, but you need to be versatile. Any clients who reach out to you need to know that you will organize the event of their dreams. 
With all that pressure on your shoulders, you need event planner software that you can trust; you need ClearEvent.
Staying organized, especially with multiple clients and events on the go at the same time, is one of the greatest challenges you face on a daily basis. ClearEvent's flexible, custom-designed schedule allows you to keep all the events you're working on, and their respective pieces, separate from one another. 
You can even share these customized schedules with your clients so that they can follow along with your plans and offer critically important feedback. This way they get exactly the event they had in mind, and you come out looking like a super-star.
Allowing your client or funders to view your event schedule as it comes together, makes them feel included and allows you the benefit of guaranteeing your vision of the perfect event always meshes with theirs.
When clients are happy, it means they'll be coming back to you anytime they need events in the future, which means more growth for your business!
This cycle of success is just one of the many benefits you get when you use ClearEvent.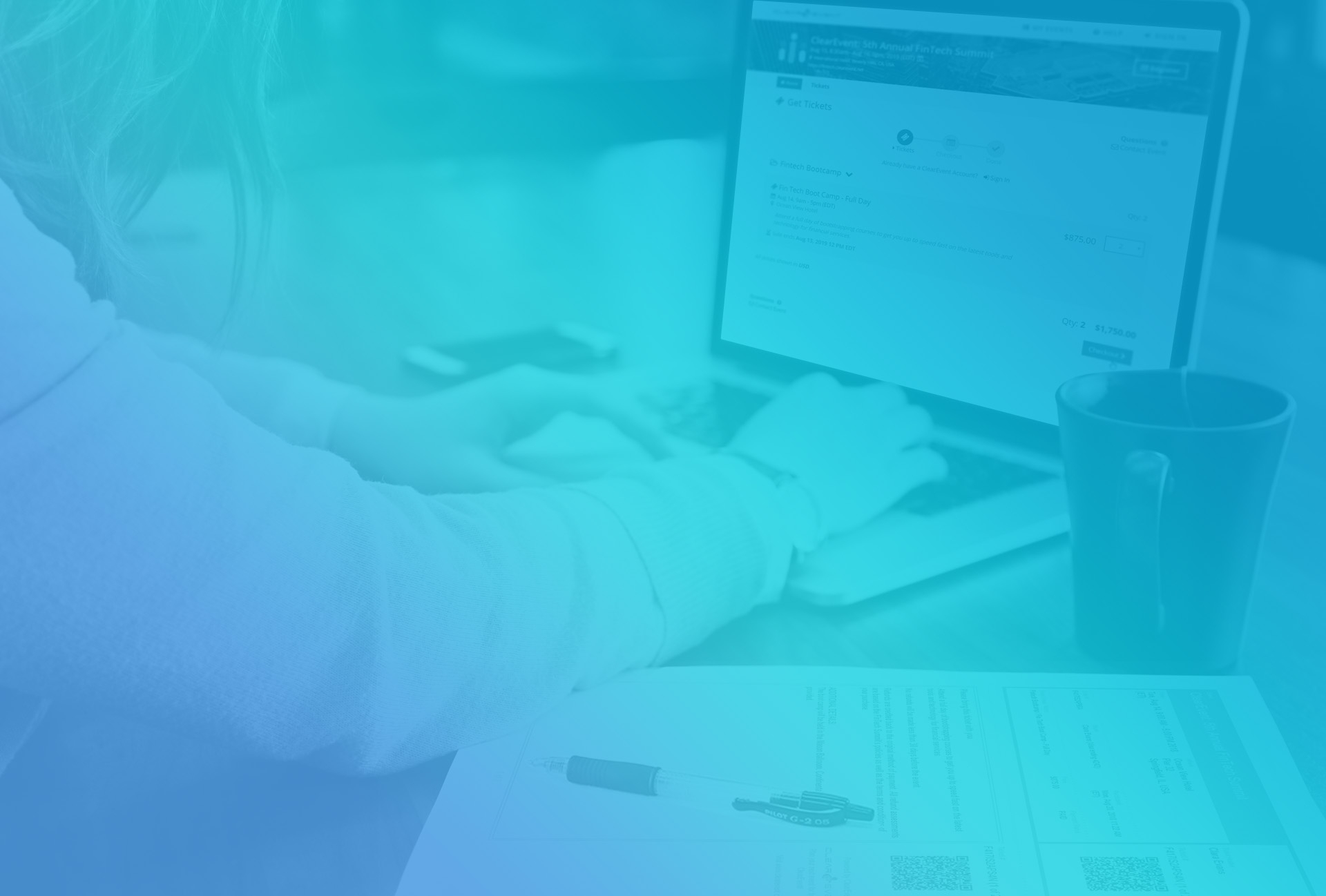 "I love the quick responses from the customer service team, the demonstrations they send are extremely helpful. The application is quick and easy to put together. I like the idea of having online and offline payment options."
Danielle S.
Managing budgets is a challenge in any industry, but for someone planning numerous events with different, unconnected budgets, it can be a real pain in the neck. 
Thankfully, ClearEvent offers event planner tools like event budgeting that allows you to track revenue and expense categories, which update in tandem with tracking ticket sales and attendee registration.
This way, you'll always know where your budget stands in relation to the number of guests you are expecting to attend the event, while also keeping your expenses in order. 
A sudden influx of unexpected expenses can make or break the success of an event, especially if you're too busy organizing everything else to notice until it's too late.
Never again worry about forgotten expenses pushing you over your budget cap or eating up the event profits. ClearEvent is here to protect you against these potentially disastrous unforeseen situations by tracking and monitoring your expenses against your budget, so you can focus on the thing that matters most – making sure the event is a huge success!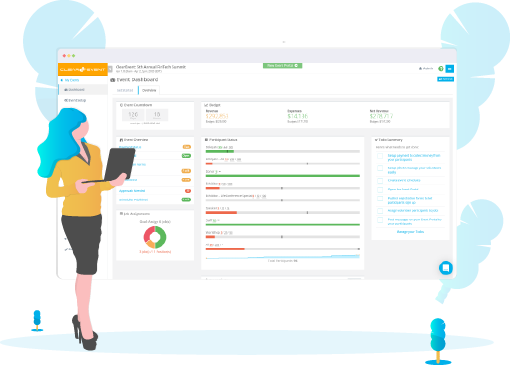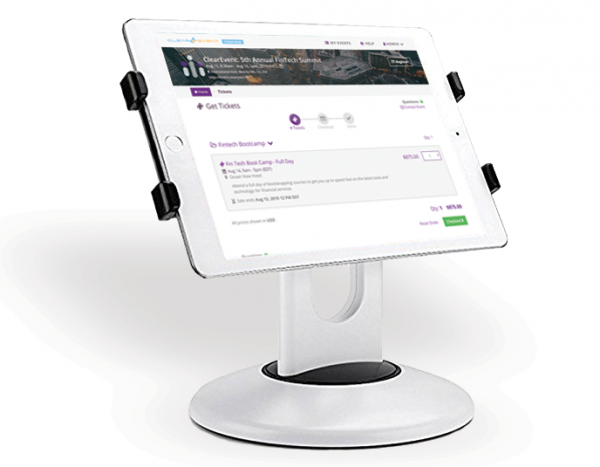 Communication is one of the most crucially important features an event planner needs to have at their disposal. Client requests, updates from vendors or guests, venue rentals, the list goes on and on. 
Without good communication, your event is doomed to suffer unnecessary speed bumps in its journey to completion. You need event organizer software that can minimize wasted time and maximize your communication efficiency.
ClearEvent takes the hassle out of communicating with all the different people involved in making your event a reality. And with the easy, secure ability to communicate messages to individual or selected groups, you can communicate information with multiple people in one simple step.
No more sending the same message seven – eight – nine times! That's time that could be better used focusing on other necessary tasks, time that ClearEvent can give back to you.
"ClearEvent helps us market our company events with ease. The system takes care of the bulk of the logistics, freeing up members on our team to focus on other aspects of the event. It's like having another employee at our disposal!"
Melyssa P.
EVENT ORGANIZER TOOLS
Sometimes it feels like you're running the entire event yourself, but the reality is that it often takes a team of people working under you in order to ensure everything is done properly and on time. 
This can be really hectic. Without event organizer tools, trying to keep track of who is working on what at any given time is unnecessary stress, which you don't need on top of all your other responsibilities.
ClearEvent lets you delegate and set up assignments for each of the people working on your event team; making it a breeze to manage multiple people working on different tasks, all at the same time.
Plus, with their incredibly helpful 'To-Do' lists, you can prepare a list of things that need to be done. When one of your helpers finishes a task, they can move right into their next one without you having to stop and instruct them directly. It's a multitasker's dream come true!
All these features are just the tip of the iceberg when it comes to how ClearEvent's event planning software can help you and your event organizing business. Combined with their above-and-beyond customer service experience, you'll know you're in good hands when you put your trust in ClearEvent.
Sign up for a free demo today and let ClearEvent show you how we can help take your event planning to the next level! It will be the best choice you ever made for your business.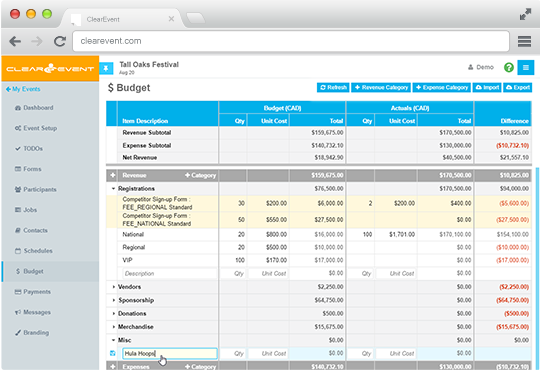 Whether you're running an event for employees and investors or putting together a fundraiser or charity event, ClearEvent has the tools and expertise to make even the loftiest event planning ideas a reality.
To run or create events, you need more than just event software! ClearEvent includes exceptional customer support, training, and expert advice to help you create impactful events.
Sign up today for a free demo and see why so many people are choosing ClearEvent for their event management needs and take back the time you need to make every event a success!