Todo Lists
Team-friendly todo list tracking keeps tasks organized and visible to your team.
Try for Free
Book a Demo

 Track All The Things!
Gain complete visibility to all of your event's critical-path items. Know who is doing what, and by when. Easily share todo items and delegate work to other event team members.
Already have a list of todo items? No problem, use our simple data import features to quickly bring existing todo items into ClearEvent and start sharing work with your team.
Reduce succession planning risks associated with organizer turnover. Todo lists are great for quickly transferring responsibility and getting new team members up to speed and productive.
When your event is over, use our Event Rollover feature to automatically reset your todo list so that it's ready to go again for your next event. Keep track of your event team's critical-path todo items using one simple tool.
Always know what your event team is working on.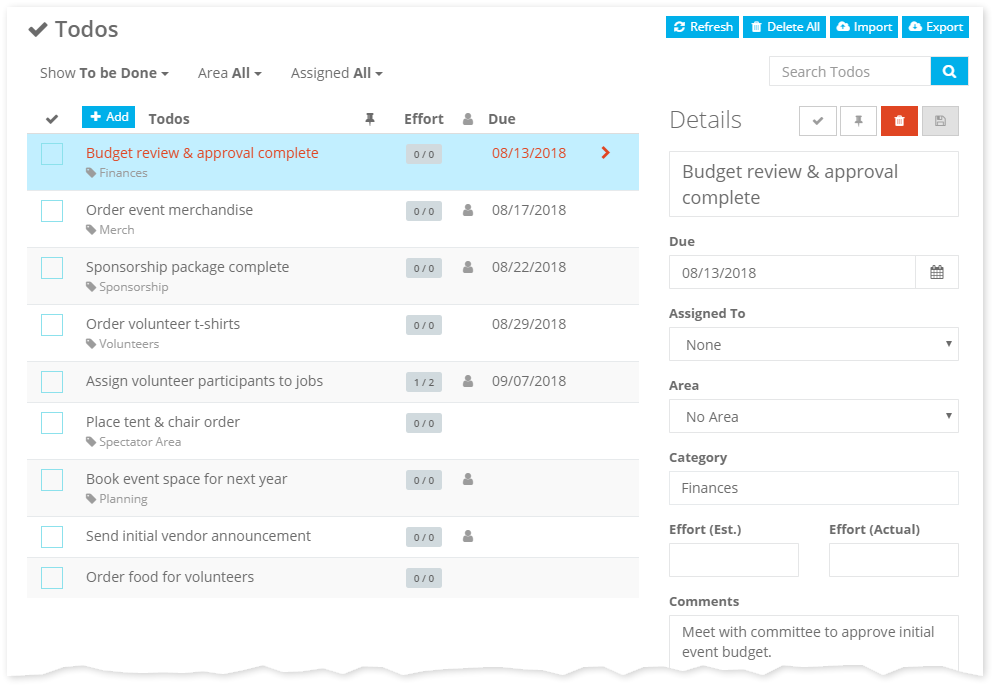 Features built by Event Organizers
We're event organizers too. We know your pain and we've built some amazing event budgeting and management features to help take the load off your shoulders!
Discover how ClearEvent can help
Still need to see more? Book a demo with an event specialist to see the how ClearEvent can help your event scale.
Book a Demo