ClearEvent Event Management Features
Learn how ClearEvent's simple and effective event management features help to streamline planning and running events of all sizes!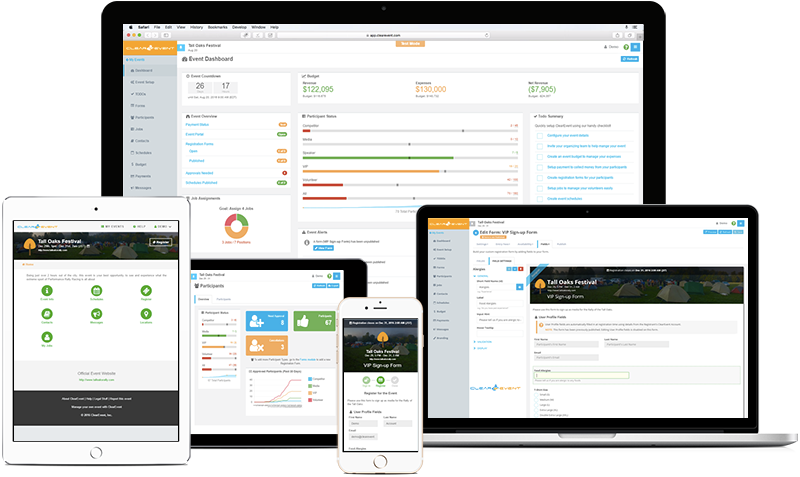 Event planning made simple.
ClearEvent makes planning and sharing your events a snap. Enable your team to focus on the unique things that make your event special!
All-in-One Event Planning Features
Supercharge your organizing team's productivity! ClearEvent's powerful planning, logistics & collaboration tools automate the tedious parts of running your event. It's has all the event management features your team and participants need.
Register & Manage Participants
Register all participants, from volunteers to VIPs, in one place. At a glance, see registration progress with visual dashboards. Understand participant availability, assign jobs, track progress and reduce on-site training needs.
Accept Payments & Manage Your Budget
Accept payments in minutes, not weeks! Take payments from competitors, vendors, VIPs, and more… Pass on or hide Service Charges. Awesome built-in budgeting tools help you stay on target and control your spend.
Communicate & Share
Quickly target communications to the public or your participants. Use built-in event management features to share personalized event schedules, messages, jobs, tasks, registration forms, and much more!
Promotion & Participant Engagement
Build and centralize your event's contacts. Easily create mailing lists and streamline participant engagement & outreach. Promote your event through your new Event Portal.
Always Safe & Secure
Role-based security lets you control what your team can see. Secure data centers, automatic backups, strong 256-bit encryption and PCI compliance keep your data safe. Security is a feature here at ClearEvent, not an afterthought.
Learn More
Features built by Event Organizers
We're event organizers too. We know your pain and we've built some amazing event management features to help take the load off your shoulders!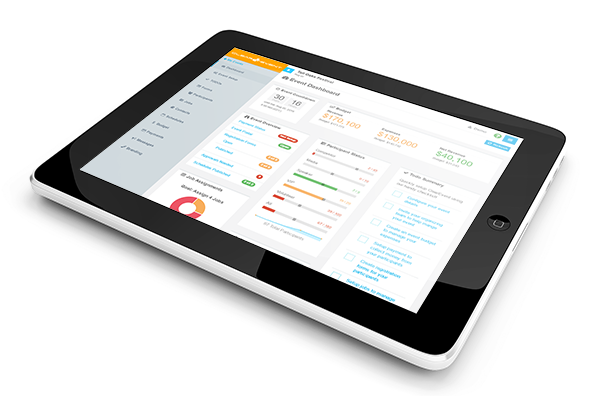 Event Dashboard
It can be hard to keep track of how your event is doing, especially when there are several people on your event team. ClearEvent's Event Dashboard shows at a glance the status of your whole event.
Colors pinpoint what needs attention. Drill into key metrics to learn more and address burning issues quickly.
Register Participants
Custom registration forms can easily be created and shared to allow any type of participant to register for your event. Register volunteers, competitors, VIPs, vendors, spectators, media, speakers and anyone else you can think of!
All your registration forms can be linked from your event website, emails and social media posts. Keeping track of registrations is simple.
Easily charge fees and our built-in budgeting module will update your budget in real-time. No more manual entry!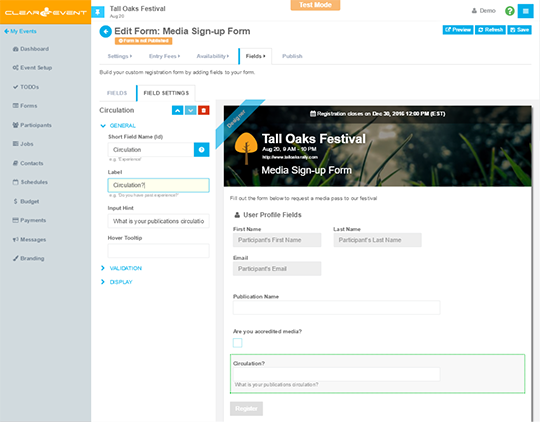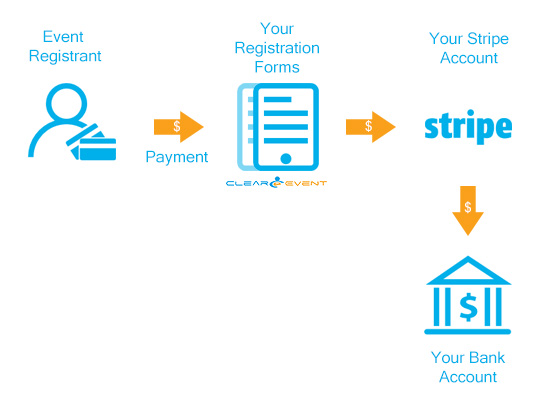 Accept Online Payments
Accept online payments in minutes, not weeks!
ClearEvent uses Stripe to allow your event to securely accept payments over the internet and avoid complex merchant account setup. Stripe is certified to PCI Service Provider Level 1, the most stringent level, and transacts billions of dollars every year for forward-thinking businesses around the world.
To get started all you need is a bank account. We'll step you through creating your own free Stripe account. You
Once you're set up, money is transacted directly between your registrants and your event's Stripe account. Transfers are made to move funds from your event's Stripe account to your events bank account on a 7-day rolling basis (2-day in the US). You won't need to wait until your event is over to get your money!
Mobile Event Portal
Avoid paying for expensive and hard to maintain "event apps" that quickly become stale. ClearEvent automatically creates a brandable, cross-platform Event Portal that lets your event provide personalized event details to your participants. Show important event details, schedules, organizer contact info, key locations, and much more to both the public and event goers.
The Event Portal is a one-stop source to learn about your event. Reduce training costs and last-minute on-site meetings by communicating job assignments, schedules and other important details to your various participant groups ahead of the event. With a simple tap, participants can keep you updated as they complete assigned tasks.
Message specific groups of participants using our intuitive targeting and segmentation tools.
If you don't have a website, our Event Portal is a great way to build a web presence for your event. The best part? You can create your portal in minutes and you don't need to be a software genius to do it!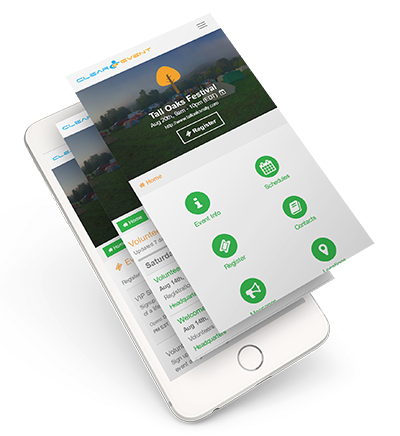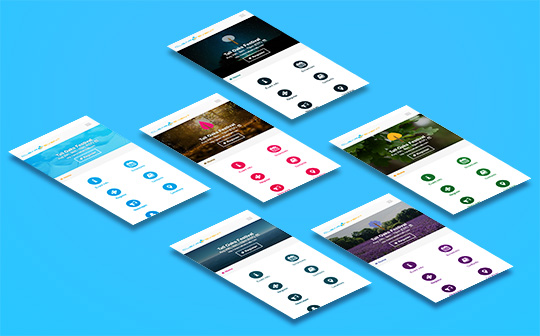 Custom Branding
Apply custom branding to make your Event Portal pop! Effortlessly change colors, background imagery and logo and we'll instantly apply your brand to your Event Portal and registration forms.
Event Budgeting
Event organizers told us they wanted a budget that their organizing team could manage without swapping spreadsheets. Getting started is quick. Import your existing budget, or use ClearEvent's comprehensive starter budget that's loaded with common revenue and expense categories. If you prefer, start fresh and can add line items as needed.
Updating your budget is simple with ClearEvent. Your event team can update Budget records as they go. Most importantly, fees collected by ClearEvent update your Budget automatically as they are received! No longer do you need to dig through data exports, Excel sheets and emails to see if you're still on budget!
At a glance, budget details roll-up to your Event Dashboard so you always know if you're on track.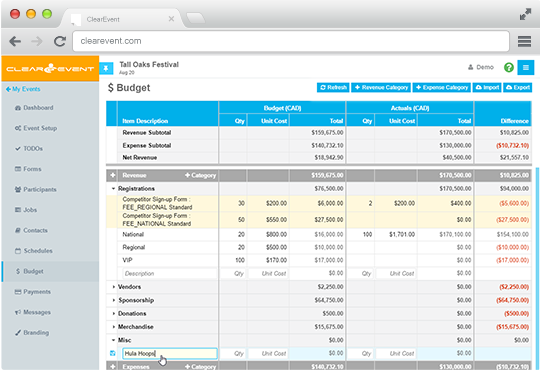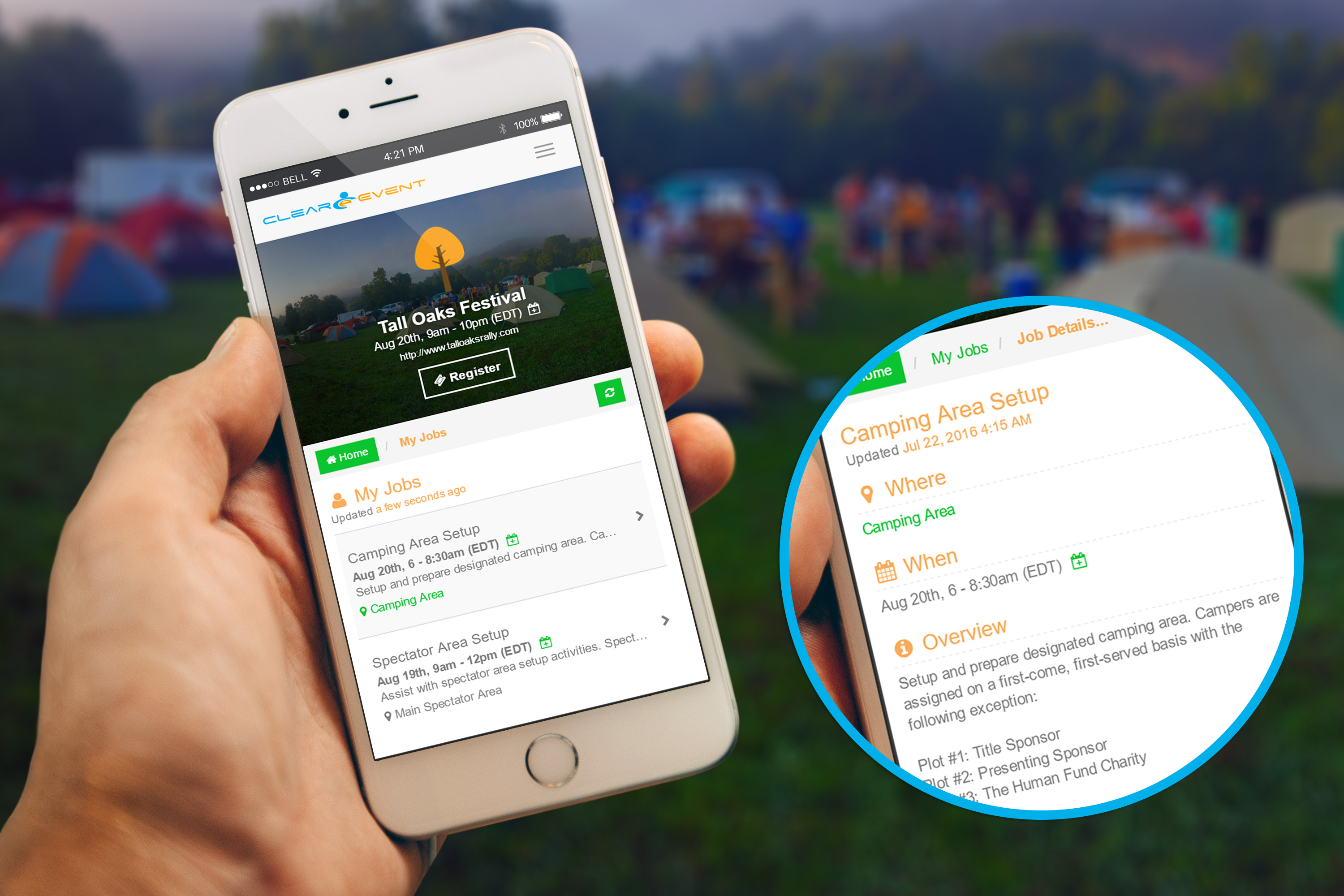 Volunteer & Job Management
Who's available? Who's doing what? And is it done yet? Setup jobs and effortlessly assign participants, like volunteers, to open jobs. Job assignment information is instantly available on the Event Portal! Each participant only sees their own jobs & tasks, making planning a snap and reducing event-day training needs.
Handle last minute changes, special requests, and understand how many unassigned jobs remain at a glance.
Send Targeted Messages
Finally, a simple way to share messages. Let's face it, sending messages by cutting & pasting names into emails is error prone and painful! Now you can post messages at any time to any of your event participants, including the public!
All of your messages are posted to your Event Portal and are kept in one place! Nice and tidy and messages are easy for your participants to access. Participants no longer need to dig through their inboxes for important event information.
Advanced segmentation and tracking tools let you target messages to specific participant groups. Built-in message tracking makes sure you don't send duplicate messages to participants.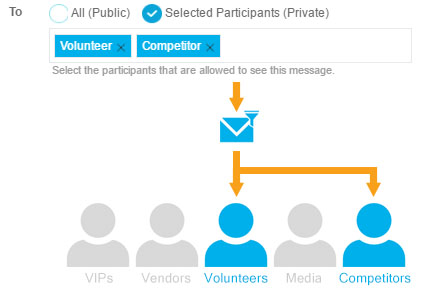 Discover how ClearEvent can help
Sign up now to create your event for free. No credit card required. No trial expiry dates.
Sign Up Free!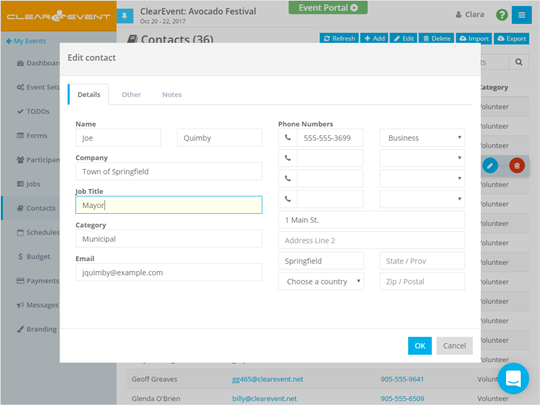 Manage Event Contacts
Keeping track of important event contact details is hard when they're scattered across places like your team's personal phones, emails, spreadsheets or fragmented software systems. It's even harder to keep your event's contacts updated and make sure your whole team can access up to date info.
With ClearEvent, managing contacts is a snap. As participants register, we automatically add their contact details to a master list and keep them up to date. You can also easily import lists you already have or manually add your own. Your team always has access the latest contact information. Our contact management features help with building mailing lists, recruitment, keeping track of sponsors, engaging with participants, and much more…
Share Schedules
Create and share one schedule for everyone, or set up specific schedules for each participant group. It's up to you. ClearEvent keeps everyone on schedule. Our easy to use schedule builder lets you manage and share dozens of schedules with ease.
Schedules are always up to date. You never need to worry about participants using emails with old dates ever again.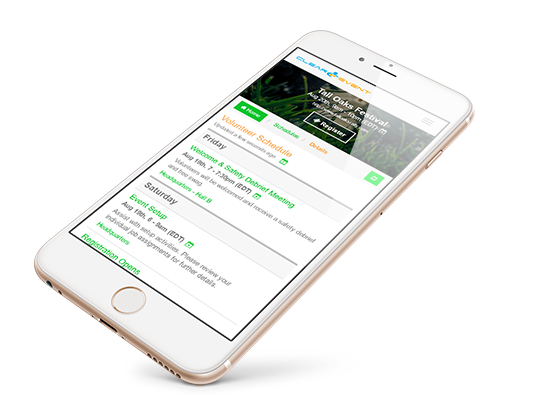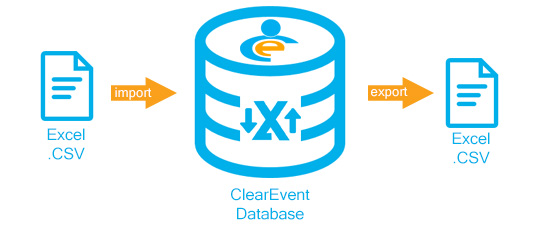 Data Import & Export
ClearEvent's data import feature allows you to add existing data you already have to the system. Our templates make it super-fast to import things like to-dos, budgets, contacts, and more…
Need to do something fancy with your data? Perhaps you'd like to export your participants so you can analyze them in Excel? No problem! Use ClearEvent's data export feature to instantly export your data to a spreadsheet.
Experienced Support
Our amazing Customer Success Team has over 20+ year's event management experience and are here to help you. We don't feel we're successful unless your event is too. That's why all of our Event Plans include in-app customer support, free of charge, from people who've been in your shoes.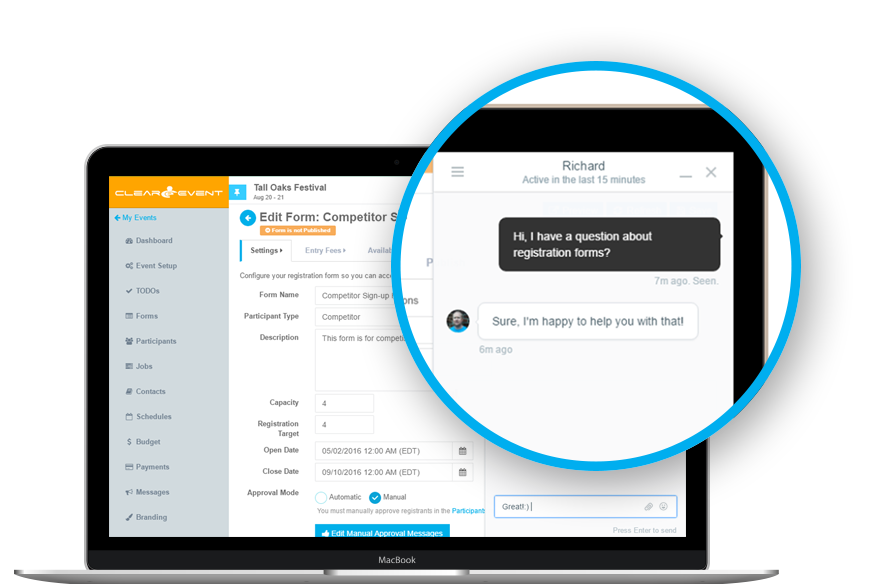 Looks great, I want to sign up!
Sign up and create your event now using our Free Event Plan. No credit card required.
Choose an Event Plan!
Wow! I want a demo!
Still have questions? Book a private demo and we'll show you how ClearEvent can help make your event even better! Book a Demo
Call Me!
Rather talk to a human? Request a call with a friendly Customer Success Team member now.
Call Me!