TRADE SHOW EVENT PLANNING & MANAGEMENT SOFTWARE
Trade show event planning offers challenges that other events don't have to face. One of the biggest of those being the need to invite and organize vendors, booth operators, security, and volunteers, on top of selling tickets and registering attendees.
You're not just throwing a party, you're planning an industry-driven event that could impact dozens of businesses; so your trade show event planning and exhibition event management needs to be flawless.
ClearEvent's all-in-one intuitive system puts you in control of all of these factors from the same place.
No more wasted time sorting through stacks of timesheets, budget and expense reports, or hundreds of emails tracking down communications with your team.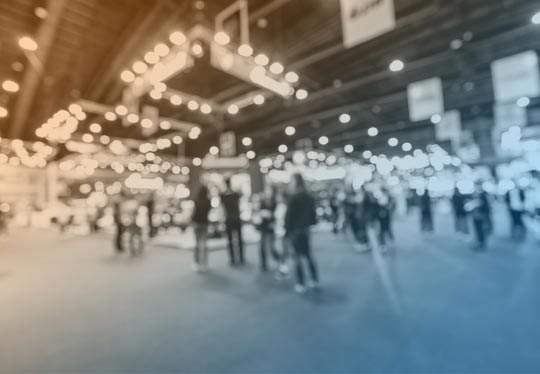 "I love the fact that Clear Event provides not only a professional registration experience for my attendees, but that it also includes software for event management (e.g. volunteer registration and job assignments, To Do lists, budgeting and more!)"
Anastasia Northrop
TRADE SHOW MANAGEMENT SOFTWARE
Trying to keep track of all the different parts of your event is dizzying. There are so many elements at play all the time, affected by so many different outside factors, just trying to keep everything organized can eat up tons of precious time.
ClearEvent's trade show management software takes the stress off your shoulders by putting everything you need to oversee in a single, easy-to-use event dashboard.
All the time ClearEvent will save you will have you wondering how you ever got along before without us!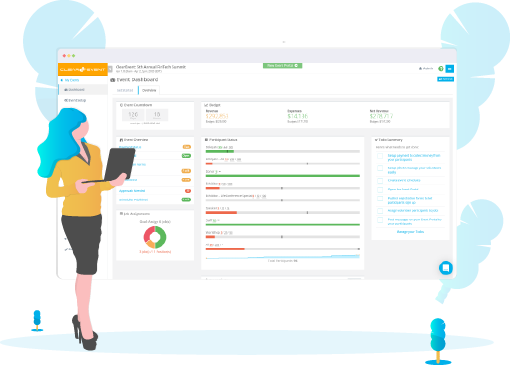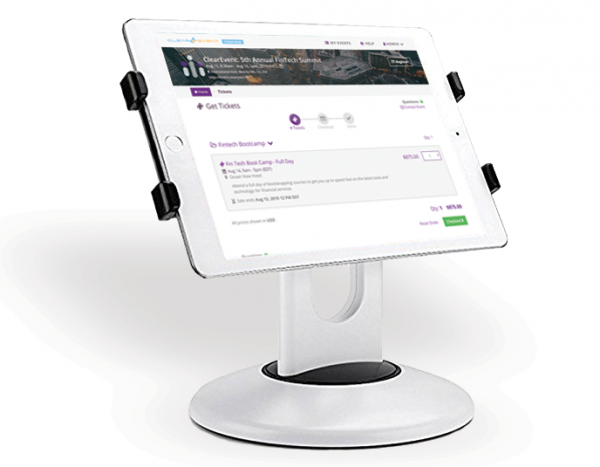 TRADE SHOW REGISTRATION SOFTWARE
Registering vendors or renting booth space is as simple as 1-2-3, with ClearEvent's trade show registration software. 
Send invitations to the vendors who you'd like to participate or sell booth space online at the click of a button. 
And since everything in ClearEvent's trade show registration software is updated in real-time, you'll never overbook or under-book yourself again. 
Efficient, sleek, and always accurate – that's ClearEvent.
"Our organization hosts a $75,000 annual event, with 300 plus vendors, 100 plus volunteers and 28,000 attendees. We couldn't do it without Clear Event. We are actively using the platform for 6 months out of the year. Like that a) it easily integrates with our website/online presence b) can send messages at a scheduled time c) we can pay automatically as we go."
Ann G.
TRADE SHOW EVENT MANAGEMENT
You're spending enough time trying to deal with all the elements of trade show event management, you can't afford to waste time waiting on communication.
ClearEvent's mobile app offers easy communication tools for you and your team. When the big day comes, you need to be focused on ensuring your trade show is running smoothly, not running around trying to get answers to simple questions.
Save yourself the hassle of poor communication throwing curveballs into your trade show event management, and join ClearEvent today!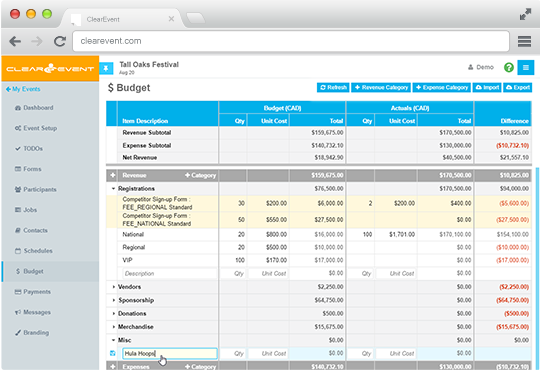 TRADE SHOW EVENT MANAGEMENT SOFTWARE
Creating your own event portal app for your trade show is a feature that should never be overlooked. In fact, it's a missing factor from many trade show event management software programs currently available.
You won't be missing out with ClearEvent, though! Using their customizable event portal, you can set up personalized event information, which can be accessed by the public from any mobile device.
Especially for new trade shows, or those looking to expand their registration numbers, this can be a huge benefit.
Talk about helpful! This is just one of the many ways that ClearEvent's trade show event management software goes above and beyond for our customers.
TRADE SHOW PLANNING SOFTWARE
With so many different factors pulling at you from all sides, it's easy to lose sight of costs in the midst of just trying to keep everything else organized.
Thankfully, you won't have to worry about losing track of expenses with ClearEvent's trade show planning software, which includes easy-to-understand budgeting tools.
Your budget is always updated in real-time, so even as new payments and ticket sales come in, you'll see how those effect your overall budget.
Why wait days or weeks for updates on your budget, when ClearEvent can give it to you in real-time?
Whether you're running an event for employees and investors or putting together a fundraiser or charity event, ClearEvent has the tools and expertise to make even the loftiest event planning ideas a reality.
To run or create events, you need more than just event software! ClearEvent includes exceptional customer support, training, and expert advice to help you create impactful events.
Sign up today for a free demo and see why so many people are choosing ClearEvent for their event management needs and take back the time you need to make every event a success!