SPORTS EVENT PLANNING & REGISTRATION SOFTWARE
The clock ticks down. Time's running out. The cheer of the crowd. For many, this is the thrill of the game; regardless of whatever game it is you're playing.
Sports event planning isn't always as exciting, but that doesn't mean it can't be just as fulfilling as the game itself.
End-of-the-year banquets, award ceremonies, and sports tournaments are just a few of the types of events that sports event planners need to arrange for every sports season.
ClearEvent's sports event planning software makes organizing these events a breeze!
With customizable schedules that can be designated by teams or groups of teams, easy-to-access online ticket sales, and modifiable to-do lists, ClearEvent makes every part of sports event planning as easy as possible for you and your attendees.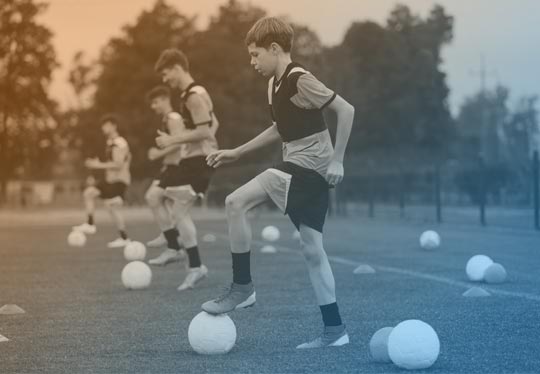 "The staff is exceptional and always willing to help out. The application process seems like it has been easier for applicants, there have not been as many questions from applicants! The staff is always willing to accept opinions of the platform, which is great because it shows that they want to continue to assist the users."
Danielle S.
SPORTS EVENT MANAGEMENT
Communication is crucial when you have many different teams to organize for and just as many coaches with whom you need to stay in touch.
ClearEvent's mobile event app allows you to stay in contact with your team leaders and even parents of players (or players themselves) with a single, easy-to-use app, which can be accessed from any of your regular mobile devices.
No more digging through hundreds of emails trying to find important information. Everything is always available in one convenient place.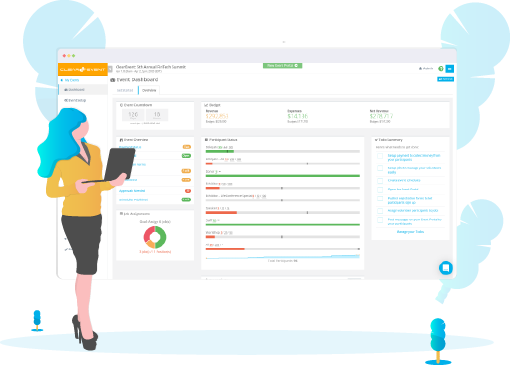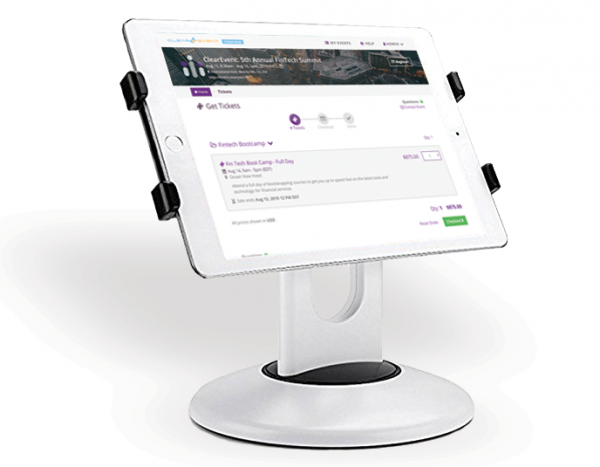 SPORTS MANAGEMENT SOFTWARE
Need to make last-minute changes to the game orders or start times for a tournament at the last minute? Afraid the teams are going to have a meltdown if you don't get everyone this information as soon as humanly possible?
ClearEvent's sports management software takes the pressure off of you with their automatically updating schedule software.
Give access to the schedule to your coaches or players, and they can get updated information through ClearEvent's mobile event app – anytime, anywhere.
Your game plan will always be clear when you choose to use ClearEvent.
"Made planning our event a simple and very organized experience. Our event looked polished and no task fell through the cracks because everything is accounted for."
Sharyn Vross
SPORTS REGISTRATION SOFTWARE
It doesn't matter if you're trying to register players for your season or selling tickets for a specialty event like an awards banquet; you need a sports registration software that can take payments, monitor registration, and most importantly, be easily accessible to all of your potential attendees.
ClearEvent can do all of these things and more, with their top-of-the-line sports registration software.
You can even customize your registration form questions to fit your needs; instead of forcing you to use a template that doesn't meet your needs, like some of our competitors would have you do.
ClearEvent is here to offer you the flexibility you need, with the tools you want; so every event you plan will be a home-run!
ONLINE REGISTRATION SOFTWARE FOR SPORTS
Long lines, impatient players and parents, and unnecessary costs because of location rentals are headaches you don't want when you're just trying to get your participants registered and organized.
These pains will be a distant memory when you use ClearEvent's online registration software for sports.
Able to accept credit card payments with PCI-compliant secure online registration, everyone registering for your event will have peace of mind knowing that their financial information is secure. All available from the comfort of their own homes or mobile devices.
Talk about convenient! Your event roster will be bursting at the seams when your potential attendees see they can sign-up and pay, without having to spend time traveling to an inconvenient location, during a specific time window in order to register.
SPORTS EVENT MANAGEMENT SOFTWARE
Sponsorships and partnerships are an absolute must for funding sports events. Giving those sponsors and investors proper credit for their contributions ensure that not only do they get something back from their donations but that they will be far more likely to contribute again in the future.
This kind of cyclical funding keeps leagues running from year to year, so it's crucial that you use the proper sports event management software to ensure your sponsors are given their proper due.
ClearEvent's sports event management software offers many customizable branding options for you and your sponsors.
You'll have sponsors lining up to donate to your organization, once they see how much visibility their investment gets them when they sign up with you. All because you made the winning choice to go with ClearEvent.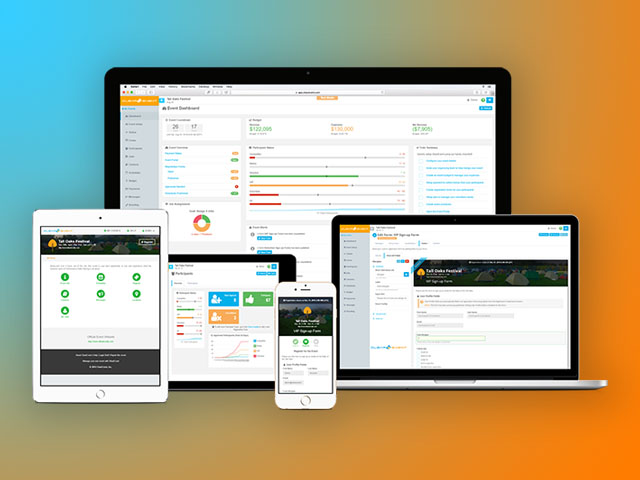 SPORTS EVENT REGISTRATION
Tired of refreshing your browser, hoping the program you're using will update? ClearEvent's sports event registration software monitors your budget in real-time. No more waiting hours to see where your current registration numbers are currently sitting.
Need some help getting organized or a little extra coaching on ClearEvent's many tools and options?
Training is quick and painless with ClearEvent's team of experts on your side. ClearEvent is a family and when you choose to join us, on top of all our wonderful organizational boosts, you get the added benefit of having amazing, easily accessible customer service.
But don't take our word for it; sign up for a free demo today, and you'll be able to see why so many sports event planners are choosing ClearEvent!
With ClearEvent on your bench, your event is sure to bring home the gold!
Whether you're running an event for employees and investors or putting together a fundraiser or charity event, ClearEvent has the tools and expertise to make even the loftiest event planning ideas a reality.
To run or create events, you need more than just event software! ClearEvent includes exceptional customer support, training, and expert advice to help you create impactful events.
Sign up today for a free demo and see why so many people are choosing ClearEvent for their event management needs and take back the time you need to make every event a success!