This service release includes the following improvements:
1. Registration Promo Codes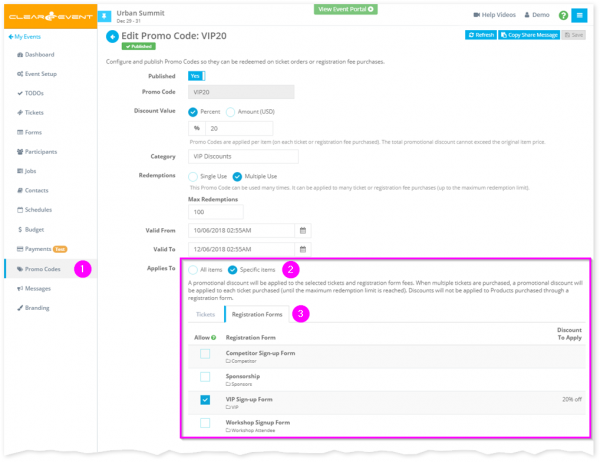 Promo Codes allow organizers to offer promotional discounts to event attendees and can also offer a great incentive for attendees to sign up early for an event. Prior to this product update, Promo Codes could only be applied to tickets. That's why we're excited to announce improvements to the Promo Code feature that enable Promo Codes for registration fees too!
Key Features:
A Promo Code can be applied to any registration form. Once applied to a form, the Promo Code can be applied to any registration fee you have added to your registration form.
Promo Codes can be applied to both on-line and off-line registration fees.
Promo Code are applied during registration at the time of checkout only to the selected registration fees. Promo Codes are not applied to products purchased during registration.
How To Add A Registration Promo Code
Here's how you can begin promoting your registration forms using a Promo Code:
Open the Event Manager App > Promo Codes section.
Click the Add button to create a new Promo Code.
Fill in the required details to configure your new Promo Code.
Under the Applies To setting choose the Registration Forms tab.
Choose which forms the Promo Code can be applied to. A Promo Code can be applied to any fee that is set up on the form. When redeemed a Promo Code can never exceed the amount of the registration fee it is applied to.
Click the Publish button when you're ready to allow the Promo Code to be redeemed.
Click Save.
How To Redeem A Promo Code When Registering
Attendees can easily redeem Promo Codes at the time of registration. Here's how:
The registrant opens an active registration form, selects a fee, chooses any desired products (if available), and will complete any required fields on the registration form.
In the Order Summary, the attendee will click the Have A Promo Code button, enter a valid Promo Code and click the Apply button.
2. Filter Test Data In The Participant Worksheet
You can now quickly filter out test transactions from the Participants section > Worksheet view.  Test transactions are created whenever a test charge is processed on-line for a paid registrations while the event's payment gateway is switched to Test Mode.
3. Other Enhancements
Removed horizontal scrollbar that was appearing on some devices.
General stability improvements and bug fixes.
We hope you find these new features useful. As always, we'd love to hear what you think, so please reach out through chat or contact ClearEvent Customer Support.
Happy Planning!
The ClearEvent Team