Here's what's new in the latest ClearEvent product release. Please note this update is a cumulative update of a number of smaller service release improvements.
Product Variants & Images!
We've enhanced the registration checkout experience to support product images, as well as products that vary by color, material, size, or type.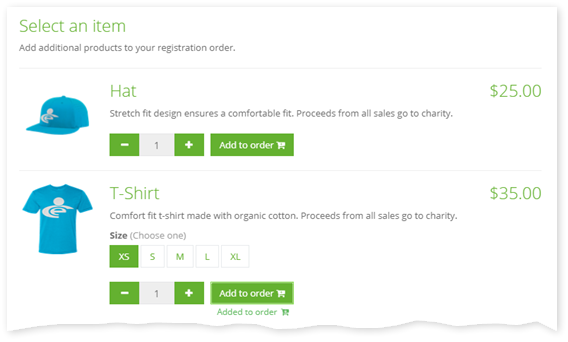 Key Benefits:
Simplifies your product listing when selling products that vary by color, material, size, or type (such as t-shirts, or other apparel).
Attendees can easily purchase multiple products by variation.
Adding product images can increase product sales.
Add Images To Schedules
Schedules are even more flexible now that you can upload images in our Schedule Builder.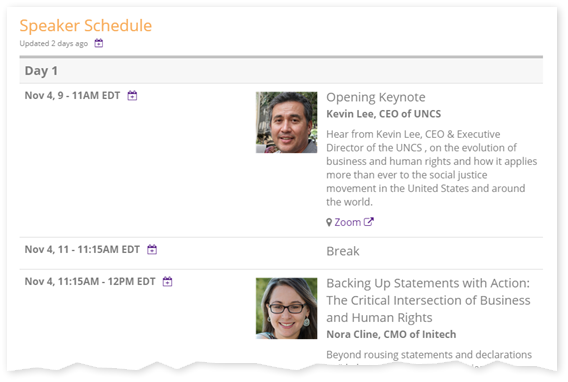 Key Benefits:
Easily create schedules with pictures for speakers, performers, event activities, and much more!
Adding pictures makes it easy for attendees to quickly scan schedules without having to read.
Rich Text Form Fields
Spruce up your registration forms by adding Rich Text fields.
Key Benefits:
Rich Text fields can help create sections to group related input fields on your registration forms.
Use Rich Text fields can help to communicate additional registration instructions, or event details, inline on your registration form.
Copy From Existing Event
For customers with annual volume license subscription plans, you can now create new events by copying event details from an existing event.
Key Benefits:
Save time when setting up a large number of events that follow a similar format to an existing event.
Create event templates that can be used to quickly create new future events.
Apply Promo Codes To Products
You can now allow Promo Codes you create to apply also to Products purchased at registration checkout. Previously, Promo Codes could only be applied to tickets and registration fees.
Event Portal Home Page Buttons
For events that use our Event Portal mobile web app feature, buttons on the home page are now no longer displayed if there is no content to show.
Key Benefits:
Attendees visiting the Event Portal are no longer presented with buttons that lead to empty pages.
As you add content to share (e.g. Schedules, Messages, Jobs, etc…), the appropriate buttons will automatically appear.
Accessibility Improvements
As part of our ongoing commitment to ensure events on our platform are accessible to everyone, no matter their ability, we've made improvements to the accessibility of our Event Portal and Registration Forms. These improvements make it easier for registrants using assistive technology to navigate our Event Portal and register for an event.
Other Enhancements
Registration Forms: Added new pre-built Company and Job Title form fields to the Form Designer.
Registration Confirmation Emails: Removed links to the Event Portal to help avoid attendee confusion for events that are not using the Event Portal feature. Customer wishing to direct attendees to the Event Portal can always include the desired link in the Confirmation Message text for each registration form.
Schedules: Increased maximum number of schedules that can be created for the Premium subscription plan to unlimited.
Schedules: Increase field lengths for the schedule line item description, location, and title fields.
Event Portal: Removed drop shadow from header text to improve text readability.
Fixed issue preventing searching by registration confirmation # in the Registration section > Registrants tab.
Fixed issue exporting payment amount when only a paid product is added to a registration form and no paid fee exists.
Numerous fixes to improve system stability and user experience.
As always, we'd love to hear what you think, so please reach out through chat, or contact ClearEvent Customer Support.
Happy Planning!
The ClearEvent Team